Your weekly recap for Politics, Entertainment, Business, Sports and Global Events.
---
P

o

l

i

t

i

c

s
It is important to begin with a story most of you likely did not hear this week. The Mayor of Baltimore resigned in disgrace. This is a week after the IRS and FBI raided her home, and she subsequently went missing. The Mayor is embroiled in a laundry list of offenses that make the phrase abuse of power seem polite. Baltimore is the 30th largest city in America with regard to population. Her own party realized the offenses were so egregious that they turned on her weeks ago. Read for yourself details of the alleged crimes here.
This story is relevant in our Era of Trump. America needs local media to remain vigilant, and discover actual corruption at the local level, as well as in business. These are the true heroes of journalism.
The king of the gaffe is only a week into his presidency, and already 1-1 with gaffes. Joe, a good way to not win the Democrat Primary is to start off by praising Dick Cheney.
California has joined Washington and New Jersey with some interesting state legislation. The Senate passed a law requiring tax returns be made public before the state allows you on their primary ballot.
OK, Time Magazine made it official. America, get to know Mayor Pete.
First, have fun attempting to pronounce his last name. Buttigieg. BOOT-Edge-Edge
Stick to Mayor Pete. The South Bend, Indiana Mayor is becoming the dark horse candidate in the Democrat Primary. Oh yeah, there is one important thing you just have to know in this identity politics era we live in. Because, God forbid we only talk about issues. He's gay, and he has a husband.
What happened? AG Barr had to testify regarding The Mueller Report. A letter Robert Muller sent Barr was leaked to the press the night before his hearing. The letter clearly shows a frustrated Mueller.
Why? Mr. Mueller didn't entirely agree with the letter Barr put out ahead of his report's official release. In particular, Mueller wanted his executive summaries published. Barr categorized Mueller's letter as snitty … defined here.
Day one of his testimony reminded America of the Christine Blasey Ford hearing. We got to hear from our eleven friends on the Senate Judiciary Committee. Every ranking Democrat essentially called for his resignation, while Republicans made sure to point out there was no collusion, and no obstruction.
Day two brought out the circus. Barr refused to attend his scheduled hearing at the House. This was because the House changed the rules one day before his appearance and was going to have staffers interview him. Something similar happened during Watergate, and the reason for the move was to provide bad optics, making it appear as an Impeachment Hearing.
In conclusion, Republicans have had enough with the Mueller Report. They see two main points. No collusion, no obstruction. Democrats want more from the Mueller Report. They see a reckless president abusing his power who dangerously toed the line of obstruction. They now believe our president's attorney general is acting as his personal defense lawyer. Take a look at what Madame Speaker had to say.
Americans said, 'hey Washington, can you please fix my healthcare costs?'
A crazy story was leaked to the press this week regarding a home grown terrorist plot designed to meddle in American politics on our Mexican border and shake up the media coverage in turn.
This crazy proposal was put out from Democrat Presidential candidate Kirsten Gillibrand. God knows how she funds this.
No surprise here. One of Trump's most hated people in the Justice Department is going to resign now that the Mueller Report has concluded.
---
Entertainment
Jeopardy

& Ken Jennings 2.0
The reign of Holzhauer continues. 22 straight wins. Nearly $1.7 million in earnings.
It is almost summer, and that means the return of new music. Shawn Mendes dropped a new single. Iggy Azalea, as well as Vampire Weekend released new albums. Finally, Eminem and Logic collaborated on a new single, Homicide.
The movie comes out Friday, May 10, and early reviews are looking good. Just look at this picture. How can this movie not be good?
The movie shattered records in its opening weekend. Take a look at these astounding statistics. The prior US record for an opening weekend was $257.6 million. This was from Avengers: Infinity War.
Week two brought in more of the same. Domestically, "Endgame" hauled in $145.8 million this weekend, a 60% decrease from its first week. The film has now earned $620 million in the U.S. since its debut.
Two years ago we lost Princess Leia. This week, we lost Chewy. The man behind the famous Chewbacca character passed away.
The official home of Sesame Street finally named a street after the famous show to celebrate fifty years on the air. New York City officially named a portion of 63rd St off Broadway Sesame Street.
She performed at the Billboard Music Awards, and hilariously threw her hat off. Said hat struck Julianne Hough right in the neck. Check out the great video for yourself here. Hough took to Twitter to make fun of the incident.
Nominations were announced this week. Here is the new musical you will need to know. Hadestown. Go see it before it costs an arm and a leg after it takes home all the awards in June.
Boyz N the Hood
Coachella Herpes
Reports of a Herpes outbreak post Coachella have not been officially confirmed, however, that didn't stop this headline from making the rounds.
Is it canceled? Honestly, no one knows. Here's the recent news only two months before the alleged festival.
---
Business
The company appears to always take shots at McDonald's in their ad campaigns. This week, they debuted Unhappy Meals in honor of Mental Health Month. 'Some' people (on Twitter) took issue with the gesture. Shocker right?
The company is simply a mystery. Wall St insiders despise it. Musk despises them. Millennial investors are obsessed with the stock. Analysts are convinced the company has no cash and is essentially running a ponzi scheme.
The company continues to drop the hammer on folks who have unorthodox opinions that galvanize American citizens. Right-winger Alex Jones was the first to be removed. Now, left-wing activist Louis Farrakhan. Look, it's Facebook's site. They can do what they want.
The stock has leveled out around $375/share, but the negative headlines continue to come out.
This week, news leaked out about Boeing apparently withholding material information from Southwest Airlines. Also, the FAA has begun to direct the company on necessary fixes to their now infamous jet.
The Fed was all over the headlines this week. First, President Trump decided to explain how he felt the Fed should handle rates. Here was his request from earlier in the week. Trump conveniently didn't explain where America would fund this measure.
Well, the Fed didn't listen at all. Here was what the Fed actually did a few days later.
Finally, one week after Herman Cain couldn't make the cut, another casualty from Trump's picks, Stephen Moore, dropped out this week. Trump ran on Drain The Swamp and he has struggled to fight the stranglehold of power within The Federal Reserve. You can hear Jefferson and Madison cheering for Trump to keep trying, while the ghost of Hamilton laughs in the background. Or, maybe they're all singing a musical number written by Lin Manuel Miranda?
The company went public Thursday, and stock went parabolic. This was the best debut from an American IPO in over a decade.
The company has officially thrown their hands in the air regarding privacy matters. Zuck and his cronies have essentially full on admitted they cannot control the monster they created. They are now requesting that the government regulates them.
We found out details of last week's settlement. Take a look at the amount of cash Apple handed Qualcomm! #TooBigToFail
The tide may finally be turning for the embattled conglomerate. Take a look at the headlines from their recent earnings report.
The bank found themselves in hot water after this tweet. America, you are way too sensitive.
The market has continued to remain hot. Stocks gave up a little at the end of the week, but not before experiencing new highs earlier on. Also, American unemployment is at a 50-year low!
The streaming music service continues to dominate. Take a look at these numbers.
A few weeks back Heinz announced serious accounting irregularities. This week, the largest shareholder chimed in. Why is that relevant? It is America's most famous investor, Warren Buffett. He said, "there's something going on." Now, Heinz is blaming their auditor, Price Waterhouse Coopers. The stock is down over 25% on the year, and now Buffett is pissed. Expect this story to continue for a while.
---
Sports
The GM of the Celtics suffered a minor heart attack following Game 2 against the Milwaukee Bucks. Ainge is expected to be OK.
The Blazers and Nuggets played a game deep into the night, or so I read. Sorry, but folks on the East Coast have stuff to do in the morning.
The Houston Rockets threw a tantrum after their Game 1 loss to Golden State. They had already completed a huge piece showing over 80 errors the NBA referees made against the team last year when they played GS in the playoffs. They conveniently leaked the story after this week's loss. Then, knowing that referee Scott Foster was officiating Game 2, these stats were unearthed simultaneously. Houston went on to receive one more foul than Golden State, and easily lost the game without referee interference.
The NBA's biggest babies have tremendous egg on their face. Expect the league to significantly fine the organization once the playoffs conclude.
The new voice of MNF is Booger McFarland. Yep, his first name is Booger. Would love to interview his parents.
The Knights elevated their number two man this week, and ensured he would stick around with regard to running the organization. Rumors were the Edmonton Oilers would snipe the man. Good for Vegas.
Philly fans booed Bryce less than two months into the season. Shocker. Well, this didn't stop Smash Mouth from calling out the All-Star.
---
Global Events
A member of PM Theresa May's cabinet was removed from office this week for leaking to the press news related to Huawei. Also, a deal for Brexit has yet to be brokered.
The country's impromptu 'leader' Juan Guaido requested the citizens take up arms against actual leader Maduro and his military in a coup. The pictures and videos are ugly, and the attempt is not working. Why? In particular, Maduro has a stranglehold on his military, and Guaido cannot convince them to defect. Second, most Venezuelans are unarmed, as the government outlawed firearms in 2012.
Emperor Akihito officially abdicated his throne this week. Although the decision was made over two years ago, it became official a few days back. It has been over 200 years since an Emperor abdicated his throne.
Leaders of the island nation are formulating a plan to change the capital from Jakarta. Why? The city is literally sinking because it was built on muddy grounds. Read up on this crazy story here.
This is hilarious out of Canada.
The Church of Scientology has a cruise ship. Said cruise ship is in quarantine. Why? A confirmed case of the measles is on the ship. Now, said cruise ship with measles is forcibly docked off the coast of St. Lucia.
---
National Events
Another week, another shooting. Two this week. Multiple heroes. You have to read about both.
First, UNC Charlotte. His heroics are outlined here. A man stepped in front of a bullet to save lives.
More heros from earlier in the week. This shooting took place at a San Diego synagogue. Read about two heroes here.
Google's Seattle Crane Incident
Horrible news out of Seattle. A crane belonging to a Google construction site collapsed. Two workers died, as well as two people in cars.
Lately, this story is becoming a tad too frequent. Computer systems were disrupted for the third time in a month, causing wide outages and delays.
A shocking story out of LA. Apparently authorities foiled a terror plot.
Take a look at this picture. A Boeing 737 slid off the runway and into a river Friday night. EVERY passenger survived!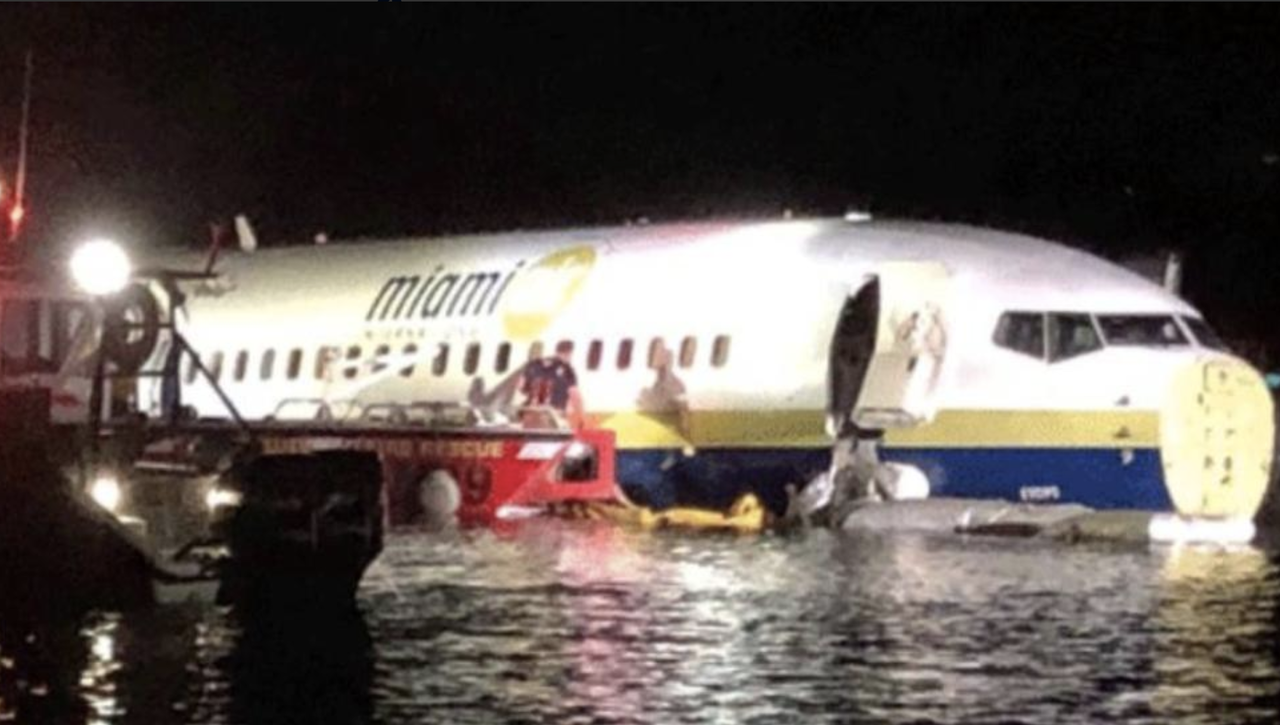 Take a look at these stunning numbers comparing the GDP of ONE AMERICAN STATE to an ENTIRE INTERNATIONAL COUNTRY. Folks, America is great, and we aren't going anywhere for a long time.
The trends they are a changing. Take a look at some of the American cities taking population from big cities like New York and LA. Also, cities that have experienced a renaissance in the last decade, such as Denver and Seattle are officially too expensive for Millennials now. NYC and LA experienced decreasing population in 2018. Expect Seattle and Denver to join the club next year. Homeowners beware. Phoenix and Las Vegas are still gaining.
---
'Entirely Scientific' Prediction Meter
Because, why not?
1. Chance of Impeachment = 1%
Down 1% from last week
2. Chance Trump wins reelection in 2020 = 47%
Up 2% from last week
3. Most likely Democrat contender = Joe Biden
Unchanged
4. Chance Howard Schultz runs as an Independent? = 90%
Unchanged
5. Chance the Golden State Warriors repeat = 15%
Up 5% from last week
6. Chance of a US Recession in 2019 = 10%
Down 5% from last week
---